Chrome-R Embroidered Logo Cap
13CMAC211A005904A939
Chrome-R Embroidered Logo Cap
13CMAC211A005904A939
Description
An adjustable six-panel construction cap featuring a curved brim, tonal stitching and a C.P. Company logo on the front. Crafted in Chrome-R, a woven multifilament nylon derived from the types used in military canvas fabrics, offering a near impermeable barrier against water and wind. Developed exclusively for garment dyeing, Chrome-R resists the pigmenting process, which generates lighter and more vibrant tones in the finished garment.
- Recycled Nylon
- Garment Dyed
- Embroidered Logo
- Panelled Construction
- Adjustable Strap
- Embroidered Eyelets
Care & composition
Care
- Do not wash
- Do not bleach
- Do not tumble dry
- Do not iron
- Do not dry clean
- Line dry
Composition
- External fabric: 100% Polyamide / Nylon
Shipping & Returns
RETURN: You can request a return within 14 days of your order being delivered by filling out the
online return form
. Once the request has been completed, you will receive email confirmation from our Customer Care team with the authorisation to proceed with the shipment.
Click here
for more information on Returns.
Fabrics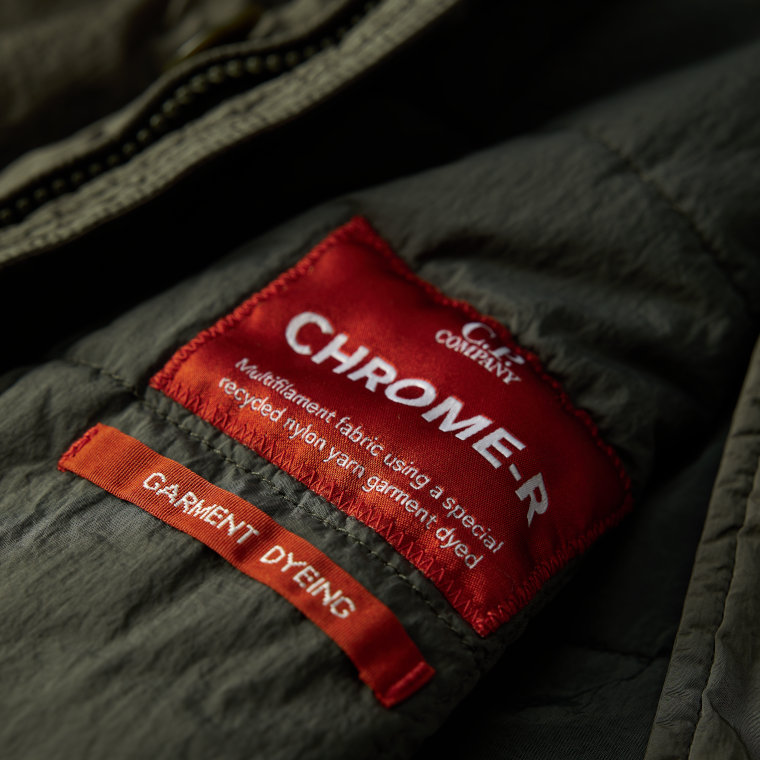 Chrome Re-Cycled
Chrome is C.P. Company's foundation woven multifilament nylon. This latest version uses re-cycled nylon yarns. Not only do we believe that it is vital to use wherever possible re-cycled fibres, but also the very minute change in chemical structure leads to a slightly more natural, softer touch and a different way of absorbing colour, a fundamental component of the garment dyeing process.
Composition
Re-Cycled Nylon
Filament Section
Multifilament Nylon Shining, Warp&weft
Fabric Features
Garment Dyed
Quick Dry
Multi filament
Water Resistant
Designer's comment
"Chrome has always been a mainstay of C.P. Company. The new re-cycled characteristics simply make it more interesting."
Rain Barrier
Drop Resistant
Water Resistant
Waterproof