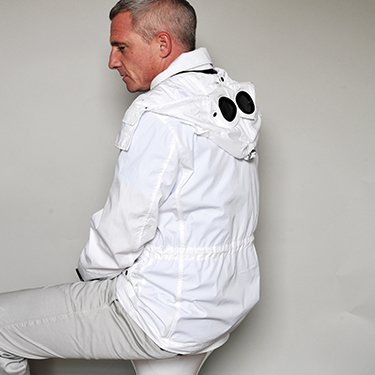 John Tuvey
King's Cross, London.
— The UK Indie Dance music scene (often referred to as the "baggy" or "Madchester" movement) of the late 1980s and early 1990s represented, amongst other things, the first stylistic fusion of clubwear and football terrace fashions. In a sea of Northern, particularly Manchurian, groups such as The Stone Roses and Happy Mondays, Flowered Up stood out as the most influential London group of themovement.
Their cult, 12 minute 53 second single, Weekender, in the words The Farm's Peter Hooton "summed up the period... they lived life to the full and meant it when they sang it." Their live shows remain legendary, blowing their contemporaries out of the water for raw energy and atmosphere. Flowered Up drummer John Tuvey agreed to model the Spring Summer 2018 C.P. Company collection for C.P. Magazine and at the end of last sumer, together with photographer Giasco Bertoli, we visited him in King's Cross London to shoot him at his house and in the streets in which he grew up and still today lives and works as a London Black cab driver.